Nu Holdings (NYSE: NU) is an interesting company that has fallen significantly due to the general rotation out of technology, where multiples have collapsed. We liked Nu on the basis that it would easily increase revenue by entering unbanked populations and also cross-sell customers, maximizing customer lifetime values ​​at minimal customer acquisition costs. It continues to generate revenue growth and will likely continue to do so despite the expected challenges in the macro economy, with a clear well for marketing and business development efforts as a mode of reinvestment. While we are hesitant to tap into tech due to the sector's sensitivity to market movements, we are confidently placing Nu on the watchlist.
Q2 results
Our preview of Nu focuses primarily on one concept, which is that since our last coverage, and likely still will be, customer acquisition costs are low at the $5 level. This may have changed as marginal consumption declines due to lower consumer confidence, perhaps registering some increase, but also has revenue per customer.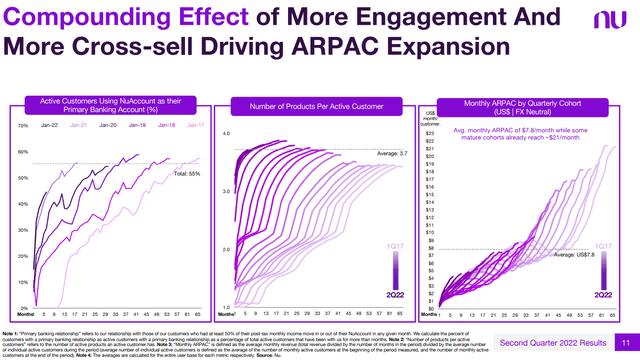 While ARPAC growth decreases from cohort to cohort, what is attractive is the higher ARPACs achieved on older cohorts, and the average ARPAC growth was 50%. At $7.8 per month for APRAC, assuming the decline is accounted for within cohorts, the figure implies an average 50% return on investment on customer acquisition within a month. With overall customer growth (75% YoY active user growth), this translated into phenomenal revenue growth of 230% YoY and helped the company achieve profitability technical, including equity compensation and other business start-up expenses.
This is largely due to growth in consumer lending, but also more elements of a comprehensive banking platform, including Nu Vida, the life insurance product, one of the most successful in terms of early growth in Brazil's history, and cross-sell brokerage services through Easyinvest, now called NuInvest after integration. The only thing that hasn't increased so surprisingly is the loan portfolio due to the tightening of credit standards due to the macroeconomic outlook. Fortunately, the loans, including the credit card assets, are very short-term and there are no signs of a major increase in loan defaults.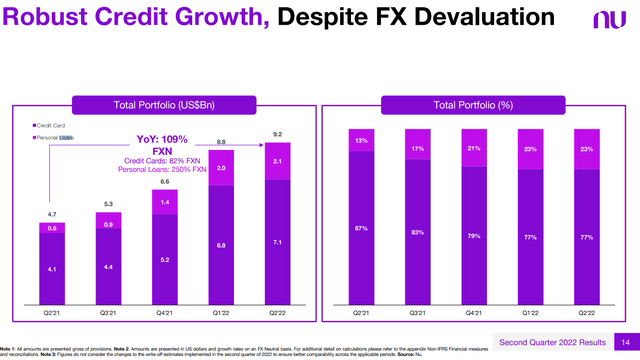 We also see an increase in loan yield levels compatible with monetary tightening, but the rate thesis is quite marginal in Nu's overall picture.
conclusion
The P/S multiple is relatively low these days at just 3.83x. While it is true that some momentum may be lost as the global economy contracts, Nu's major markets are more resilient thanks to their local currencies which are commodity-driven and strong against the currencies of reserves like even the dollar, and local access to raw materials supported by relatively leftist governments. , with Lula's likely win making that rather true for Brazil who had long leaned to the right.
We believe the low multiple does not reflect growth potential and the ability to generate margins, but that can be said of much of the technology, and therefore we find this exposure unnecessarily speculative and volatile given our internal view that markets will continue to decline.
Another thing to consider is that leftist governments have been known to crack down on companies that engage in predatory practices. The credit card industry in general can be seen as somewhat predatory in terms of rates, and in general, strategies that focus on large unbanked populations are generally susceptible to suppression by left-leaning governments, as noted. seen in the case of Qudian (QD) in China. Lula addresses household debt issues and said he would consider to negotiate with the private sector on this issue, and the benefits to households are likely to come at the expense of the private sector.
While the latter issue is still unlikely, we're considering it and generally won't move with Nu beyond putting it on the watchlist to watch.