Credit unions and other lenders would face greater scrutiny over their use of ratings to protect borrowers from racial discrimination under proposals the U.S. Department of Housing and Urban Development (HUD) has sent out. to President Joe Biden on Wednesday.
The NCUA, FDIC, and other agencies participated in drafting the Interagency Task Force on Property Assessment and Valuation Action Plan (PAVE).
A press release from the HUD said the plan, "when enacted, represents the most sweeping set of reforms ever proposed to advance fairness in the housing assessment process."
"The PAVE Action Plan is aimed directly at dismantling racial biases in the housing lending and appraisal process and promoting generational wealth creation through homeownership," HUD said.
In it, HUD would require the NCUA, FDIC, and other federal lender regulators to:
Ensure the use of appraisals by appraisers and lenders is directly included in Fair Housing Act and ECOA compliance monitoring requirements.
Consider evaluation practices in every review of existing and future relevant policies and guidelines.
Revise inter-agency agreements to promote increased collaboration between agencies to enforce fair lending standards, including those related to appraisals.
Work with other agencies to develop a shared database to enable agencies and the public to better monitor lender compliance with fair appraisal standards.
Issue guidelines on how lenders should handle borrower requests for reconsideration of low appraised values.
Track how lenders handle these requests for reconsideration of value (ROV).
"An ROV provides consumers who suspect their rating may have been influenced by racial or ethnic bias an avenue through which they may be able to request a different rating that results in a better outcome," the report states.
"Guidance would include examples of effective practices for using ROVs and whether there are steps lenders can take to encourage greater use of ROVs," he said. "Prudential regulators will also review authorities and determine the potential for rulemaking related to ROV processes, as rulemaking would entail additional liability beyond guidance."
Biden announced the creation of the task force last June. It is co-chaired by HUD Secretary Marcia L. Fudge and White House Domestic Policy Advisor Susan Rice. The task force has engaged more than 150 stakeholder groups, including appraisers, appraisal management companies, lenders, civil rights and advocacy groups, academic institutions, philanthropic organizations and individuals. who have suffered from cases of evaluation bias.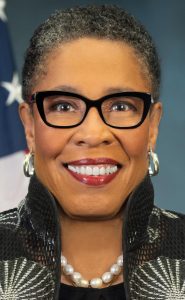 "For generations, millions of black and brown Americans have seen their homes cost less than their white counterparts simply because of the color of their skin or the racial makeup of the neighborhood," Fudge said.
"Black and brown homeowners in communities like mine didn't feel they had a voice or that the federal government was doing enough to address racial bias in the valuation process. With the PAVE task force, the Biden-Harris administration is taking a whole-of-government approach to addressing this issue," she said.
Bob Broeksmit, president of the Mortgage Bankers Association, said he welcomed the report.
"While the role of mortgage lenders in the appraisal process is limited by design, MBA and its members are committed to working with policy makers and other stakeholders, including appraisers, to develop solutions that ensure that borrowers receive a fair and accurate estimate of the value of their homes," Broeksmit said.