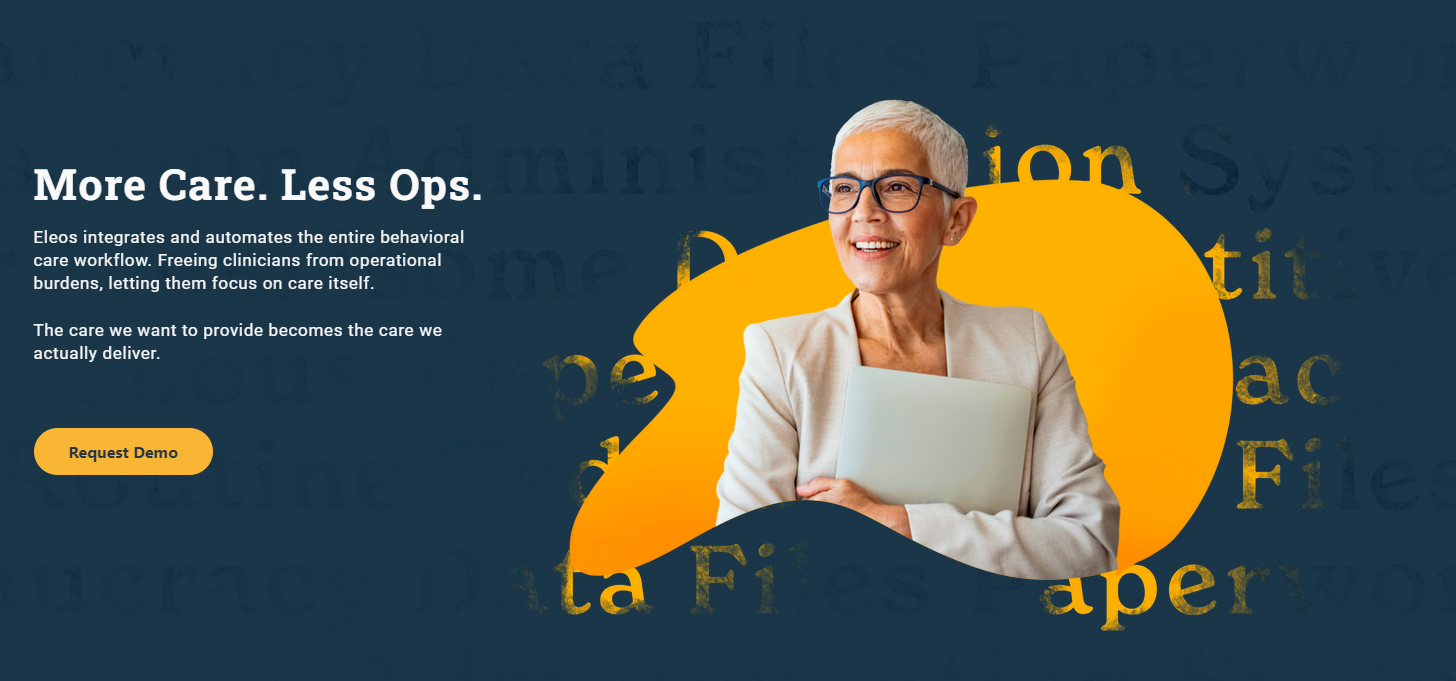 What you should know:
– Eleos Health announced a $20 million Series A funding round, co-led by F-Prime Capital and Eight Roads Ventures, bringing their total raise to $28 million.
– Eleos Health is a behavioral health application for voice AI, operating ambiently in the background of mental health clinician-patient conversations. It is being used in production by more than 20 healthcare providers and health plans, with the goal of freeing up to 30% more mental healthcare provider capacity as the United States grapples with shortages of clinicians.
---
Eleos Health, a CareOps Automation provider for behavioral health, today announced it has raised $20 million in Series A funding. The round was co-led by F-Prime Capital and Eight Roads Ventures, with participation from investors existing aMoon Fund, lool ventures and Arkin Holdings, bringing Eleos' total fundraising to $28 million.
CareOps Automation: The Future of Behavioral Healthcare
Today, 30 million Americans live with untreated mental health issues. Even the most optimistic calculations show that the current supply of 600,000 active licensed therapists in the United States falls far short of patient demand. As the United States strives to expand its behavioral health workforce, existing mental health care providers face an overwhelming workload, with self-reported burnout rates among psychiatrists at 78%. Launched in early 2020, Eleos Health is a breakthrough clinical application for voice AI, operating ambiently in the background of behavioral health clinician-patient conversations (full patient consent and authorization are prerequisites for clinical use).
Overlaying common and usable electronic health records (EHRs) in virtual and in-person care environments, Eleos securely and autonomously captures and interprets session themes and moments, generating post-session clinical progress notes and assurance coding. On average, Eleos reduces clinician documentation time by 40%. Eleos' superpower is its ability to empower both individual clinicians and clinical management with fresh ideas. Some of the most common information produced by Eleos are:
– Recurring in-session keywords covering major topics and conversation moments
– How a clinical intervention was used: CBT may include mood checking, scheduling, reflective listening, homework and action plan
– Clinician listening time versus talking time, or when and how often a clinician interrupts a patient
– Percentage of practice-wide clinicians providing evidence-based practice
– Patient improvement rate
"Behavioral health practitioners deserve cutting-edge technology that is representative and equal to the role they play in providing care and healing," said Alon Joffe, CEO and co-founder of Eleos Health. "In behavioral care, the conversation is the treatment. For the first time, Eleos helps digitize and manage the unstructured nature of behavioral health conversations, giving psychotherapists a new line of sight into patient needs, progress, and outcomes.
Traction to date
Eleos is currently used by thousands of clinicians at more than 20 national health care providers and plans, including Gaudenzia Home, Brookline Center for Mental Health, and Coleman Health Services. Eleos has captured over 6.5 million minutes of processing to date and expects 30 million minutes captured by the end of 2022.